Heathland and Grassland Restoration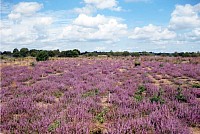 The reserve is 60 hectares in area, and approximately half of this had been in arable cultivation at the time of purchase. A full assessment was carried out, which indicated that heathland and grassland restoration was going to be very difficult and ambitious, and that it was more re-creation than restoration as the habitat had been totally destroyed. 
The research indicated that the intervention that stood the best chance of a successful outcome was to invert the soil profile of these former arable areas by ploughing them up to one metre in depth, thereby burying the enriched topsoils and exposing sandy subsoils which would be much more suitable for the establishment of desirable species. Most of the deep ploughing was carried out in 2007. This was followed by sowing of mainly locally sourced wildflower and grass seed on those areas where grassland was to be re-established. On the areas where we wanted to see heathland established, after spraying off thistles and other ruderal weeds that emerged after the ploughing, sulphur was applied to lower the pH level to the appropriate level for heathland and then heather brash containing seed was spread by a muck spreader. 

The work is ongoing and long term. Please contact Stephen Lewis,Volunteer Warden, if you need any more information or would like to become involved as a volunteer.
Click here to r
ead an article published in Aspects of Applied Biology in 2011 on the early stages of the restoration work on the reserve.